About Juha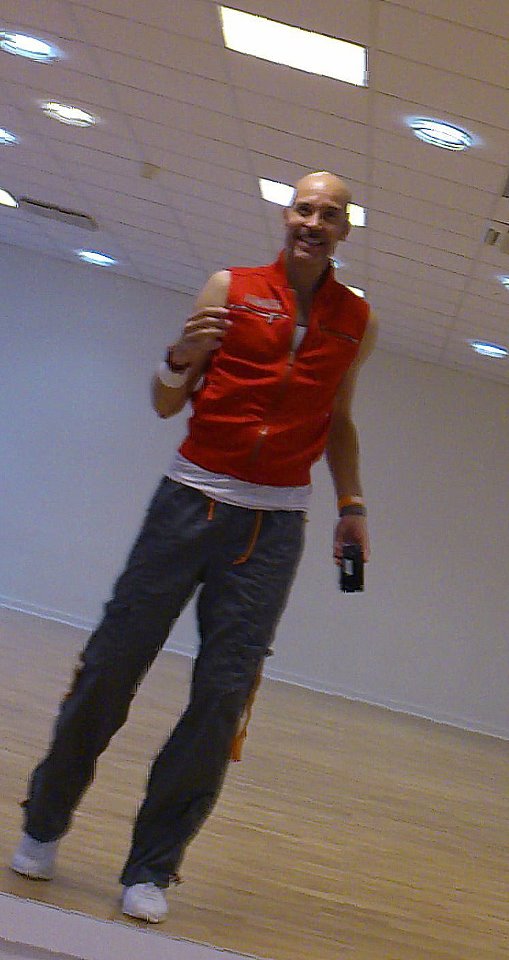 "I love to enter a role through dancing; to feel the music and be that style!"
Juha Takkinen is the most Scanian Finn living in the Swedish town of Linköping and loves dancing, exercising, and singing—sometimes all at once!

Juha was born in northern Finland and brought up in southern Sweden. There he learned dancing and physical exercising the Finnish way, by first accompanying his parents to Finnish social-dancing events as well as Scanian running competitions, being the designated driver for the former trips. He loved to watch Fred Astaire movies when he was little. When Juha moved to Malmö, he joined the Finnish folk-dance group in the Finnish Society, where he learned all the Finnish and other folk dances such as polkka, jenkka and mazurka. He also joined the Finnish choir of the society, where he learned to use his bass voice.

It was also in Malmö that Juha had his first magical group-exercise experience: an outdoor workout in Pildammsparken on August 25 in 1986, where Swedish "gympa" was done to live music performed by the band Solstollarna, Juha's musical favourites at that time.

While living in Malmö, Juha discovered and fell in love with Cuban salsa, which was introduced to the city in the summer of 1990 by the aptly named Caribbean Club; Juha still has his membership card, with number 3 on it. For his university studies, Juha moved to Linköping, where he started singing in the university male voice choir as well as taking up regular group-exercise classes. While getting to know Linköping better in the 1990s, Juha also took courses in modern dance as well as LA-style salsa, mixed with merengue, cha-cha-cha and bachata. He especially enjoyed the exercising to music so much that he decided to become an group-exercise instructor in 1998, in the discipline "gympa", then a very popular Swedish workout group-exercise. Later Juha also added instructing aerobics, step-up, and Bodypump® to his repertoire. He also learned to dance Argentinian tango.

Juha got the Zumba® Fitness fever in the winter of 2010/11, eagerly attended the Zumba® Fitness Basic I training with Izabela Kin in February 2011 in Lohja, Finland, and has since then been attending and offering as many Zumba® Fitness classes as he can. In the Zumba® Fitness dance-fitness class format Juha found the perfect combination of dancing Latin American dances and exercising in a group, while being allowed to sweat as much as he liked and, of course, having fun at the same time.

In his spare time Juha regularly joins salsa and bachata events in Linkoping, Norrkoping, and Stockholm as well as attends Zumba® Fitness dance fitness events. He also enjoys roadcycling and singing.

In addition to the membership in the Zumba® Instructor Network (ZIN), Juha is a proud member of the IDEA Health & Fitness Association.

Juha is a certified personal trainer (CPT) as well as a certified group fitness trainer (AFAA-CGFI) and has a long and strong background in instructing group exercises to music. When Juha hears good music, he cannot resist the urge to dance. His basic philosophy when creating Zumba Fitness classes is to always stay true to the Zumba® Fitness formula for choreographies as well as the Zumba® Fitness class format, which among other things means using easy steps that belong to the specific dance style; creating a choreography that is consistent with the music and easy for everyone to follow and have fun to; and having a wide variety of rhythms in the class. Juha is 100% Swedish 100% Finnish 100% Zumba®.